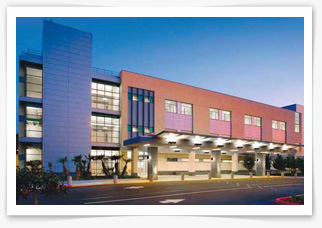 Surgical Suites and Maternal/Child Care
Redlands Community Hospital
This new three story 71,000 square foot addition contains a 1st floor surgical center with 8 state of the art surgical suites and 28 Unit PACU recovery suite.
The 2nd floor accommodates 16 Labor and Delivery rooms, 2 C-Section Operating rooms and a 16 Unit NICU Suite. The 3rd floor contains 24 Post Partum rooms, the Well Baby Nursery, conference rooms and an Education Center.
The demolition of the existing hospital included buildings dating back to 1928, 1938, and 1958 from various project phases completed through those years. The completion of the demolition made-way for the building foot print, which is served by the existing hospital's MEP infrastructure via a pre-existing underground tunnel, extending into the new building from the Central Plant.
Due to the close proximity of the hospital to an active seismic fault line, the concrete foundation is extensive. It includes over 250 drilled caissons ranging from 24" diameter and 30' deep, to 30" diameter and 50' deep on top of which are 5' thick pile caps connected by a series of tie beams.
The structural steel building is clad with stucco, stone and metal siding, and incorporates state of the art medical equipment in all departments. Also included in the design of the building are the various low voltage systems that will ensure maximum functionality for the RCH staff. These systems include integrated Infant and Building Security, surveillance and monitoring capabilities, as well as the latest technology available for Fire Alarm, Nurse Call, and Headwall systems.