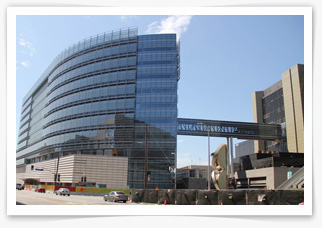 Advanced Health Sciences Pavilion

Cedar-Sinai Medical Centers Advanced Health Sciences Pavilion integrates outpatient care with state-of-the-art research laboratories.  The 820,000 sf building includes 440,000 sf of program space and 380,000 sf of parking.  Heart and Neuroscience clinics are housed in the building as well as Heart and Neuroscience research laboratories.  Other patient care services include operating rooms, interventional radiology suites, cardiac cath labs, and diagnostic imaging.  The building also includes a pharmacy, education center, training center and café.

Intelisyn provided project management services during the predesign, design, construction and move-in phases of the Advanced Health Sciences Pavilion project.  Intelisyn was an active participant in prequalification and selection of the Architect and Contractor, made recommendations about the project delivery method, worked with the Owner to develop initial project budgets and schedules, oversaw the entitlement and permitting process, maintained cost control systems and coordinated the move-in process.

The General Contractor and eleven key subcontractors were engaged during the schematic design phase and provided meaningful input into the design from an early stage.  To facilitate communication among the entire team, a web based project management and information storage system was implemented.  The Owner, Designers, General Contractor and Subcontractors used the same system and shared access to common project documents.  Providing all project team members access to the same system enabled real time communication between all team members and automated the flow of project documents.

The $600 million project was completed on time and under budget in March 2013, and meets LEED Gold requirements.   The project received the Los Angeles Business Council's Community Impact Award,  the Under Construction-Healthcare award in 2011 and the American Institute of Architects California Council Merit Award for Architecture in 2013.